You're out in nature, learning new things, getting to know new people: What's not to like?
SERCAL friends took a nearly full moon hike at Pinnacles on 31 March 2018.
The March full moon is named the Worm Moon by Native Americans and in the Farmer's Almanac because the ground begins to soften and earthworm casts reappear, which invites the return of robins. This is also known as Sap Moon, as it marks the time when maple sap begins to flow and the annual tapping of maple trees begins. Since there is (was) also a full moon on Mar 1 this year, the March 31 moon is officially a "blue moon". Whatever name you give this month's moon, what better place to view it than high atop the peak at Pinnacles National Park. See our blog for more details…
a nearly full moon hike (with condors) at Pinnacles National Park, 8 Apr 2017
SERCAL members and friends took to the High Peaks of Pinnacles National Park in the hopes of spotting condors coming home to roost in the dusk hours. The nearly full moon was already well up before sunset which added an interesting perspective and much needed illumination at the end of our descent (see photo). Though we didn't observe (at least not to our knowledge) all 400 species of bees that call Pinnacles home, we did see the much anticipated larger species. We spotted 8 condors and were close enough to observe their tags almost without the aid of binoculars (see photos). For plant folks, spring was well underway with Dichelostemma, Dendromecon, Castilleja, Melica, Lasthenia, Clematis, and Collinsia species in full bloom, just to name a few. A striking specimen of the native thistle, Cirsium occidentale var. venustum, reminded us that not all thistles are weedy pests (see photo). For a full listing of animal and plant species at Pinnacles visit their website to learn of the incredible diversity which exists there.
SERCAL Kayak Paddle and volunteer planting at Aramburu Island, 11 Feb 17
These ecological restoration enthusiasts could not have asked the oyster catchers or any of the other bird species that utilize Aramburu Island off the coast of Tiburon for a more beautiful day. February 11 was only days after some of the most torrential rain and subsequent landslide activity the Bay Area has seen in recent years, and yet the temperature was mild and the bay was calm. Courtney Gutman of Audubon staff met us at the Richardson Bay Audubon Center for an introduction to the important eelgrass and subtidal habitat of the Richardson Bay Audubon Sanctuary. She then discussed Aramburu Island's natural history and summarized the joint National Audubon Society (Audubon California) and Marin County Parks and Open Space Araumburu Island Enhancement Project to improve habitat for bird species and prevent erosion. We paddled to the island and toured the efforts to stabilize the shoreline, remove invasive plant species, and revegetate with native plants. Numerous volunteers have assisted these efforts, and we contributed in planting saltgrass (Distichlis spicata) cuttings. Audubon will turn over management of this project to Marin County Parks and Open Space in 2018. If you are interested in volunteering with the Richardson Bay Audubon Center and Sanctuary, please visit: http://richardsonbay.audubon.org/programs/volunteer.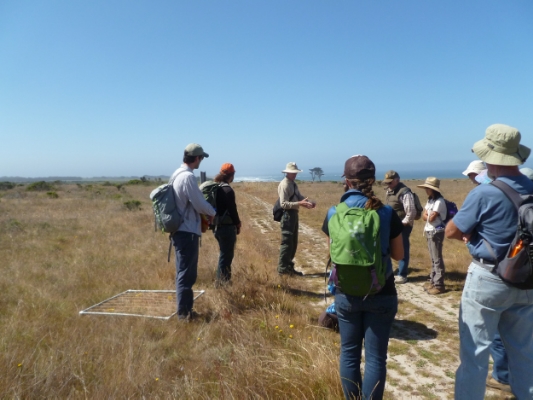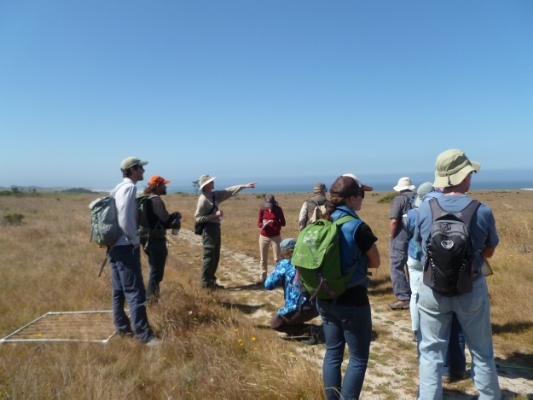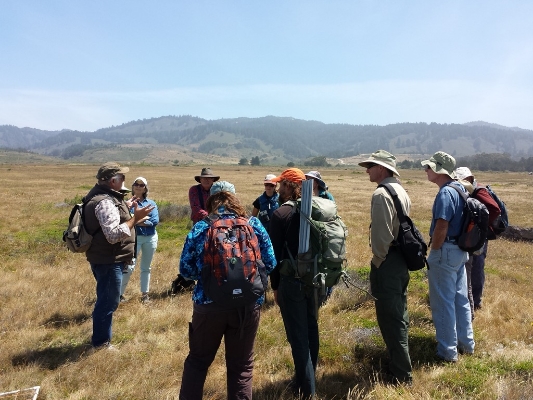 A Fine June day in some of the finest coastal prairie habitat along the california coast, 2014
An intact site dominated by perennial bunchgrasses and late spring wildflowers, Franklin Point serves as a reference site in determining restoration goals and conservation targets. The Franklin Point field tour features an informative discussion of general restoration topics and a detailed site overview as we leisurely strolled along the Cascade Creek Trail and bluffs.
After introductions where the group of 15 shared some of their favorite prairies, Tim Hyland of State Parks presented a thorough overview of the site's unique history and we laughed at the humor of a statement he once heard from someone looking over the open prairie and exclaiming "there's nothing there!" Systematically, we refuted that claim while taking in the site's highlights including acres of dense California oatgrass clumps with their fascinating cleistogamous seeds, a hard-to-find population of early flowering Davy's clarkia, and broad mats of self heal contrasting against the golden grass leaves and blue Pacific Ocean beyond.
We discussed the importance of knowing your site's hydrology and how various management methods can transform a weed-dominated landscape to support native species. Lewis Reed of the Bodega Marine Preserve led a discussion which emphasized the importance of setting restoration goals which allow for a broad range of approaches, and shared various monitoring methods for coastal prairie ecosystems. One particular highlight of our discussion was the importance of timing — not only in timing the application of different invasive weed control methods to better achieve goals, but also in planning revegetation efforts to include plants with varying flowering periods during the year as well as each day so as to better foster pollinators and wildlife diversity.
All in all, it was fun day in the sun along the coast with a broad range of SERCAL members, native plant enthusiasts, and restoration practitioners. — Will Spangler, SERCAL No. Cal. Coastal Habitat Guild Chair. Field tour photos courtesy Will Spangler and Carol Presley.
SERCAL is for the birds! January 2014
January 18 was a clear, sunny, and bird-filled day at the Sacramento National Wildlife Refuge in Glenn County. Although human attendance for the SERCAL-led field trip was low, waterfowl attendance was astounding. SERCAL members Gerrit Platenkamp and Harry Oakes and ICF fish biologist Jeff Kozlowski attended the event. The great weather conditions allowed for great views and photo opportunities. A total of 51 bird species were observed, including 13 waterfowl, 6 raptor, and several shorebird species. The NWR is a mosaic of open water, emergent marsh, and mudflats. Snow geese and Greater white-fronted geese were the most abundant species with numbers in excess of 10,000. There were several opportunities to view large flocks take to the air and great close-up views. Other waterfowl highlights were close-up views of Hooded mergansers and Ring-necked ducks. We had a great look at a Sharp-shinned hawk perched near the visitor's center bird feeders, a Peregrine falcon soaring eye-level over the marsh, and four immature Bald eagles.
January 25 provided yet another clear, sunny, and bird-filled day. This trip was held at the Cosumnes River Preserve in southern Sacramento County. We had intended to spend some time exploring the riparian forest and scrub habitat but the birding was so good in the wetland complexes that we spent most of the time there. Gerrit, Jeff and I participated and attendance grew by 33% compared to the previous weekend because my friend Evan joined the trip. The great weather conditions once again allowed for great views and photo opportunities. A total of 30 bird species were observed. This was fewer than the previous week's trip but we didn't cover as much ground because we were focused on taking photographs. The preserve's walking trail and boardwalk adjacent to seasonal ponds allow for close encounters with waterfowl. A small group of Sandhill cranes were very close to the boardwalk and didn't seem to mind all of the onlookers. Other trip highlights that made for great photographs were a group of Blue-winged teal, a Sora adjacent to the boardwalk, a cooperative Snipe, and a brightly-colored male Common yellowthroat. Photos courtesy Harry Oakes and Gerrit Platenkamp.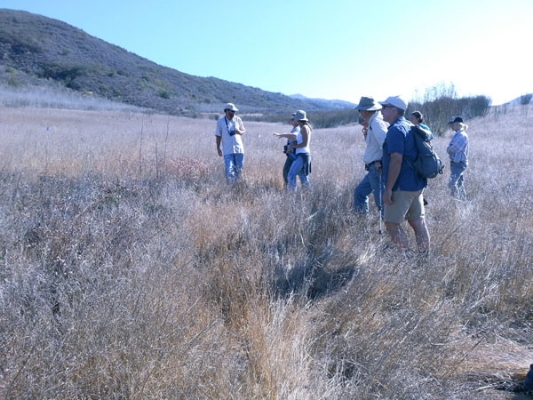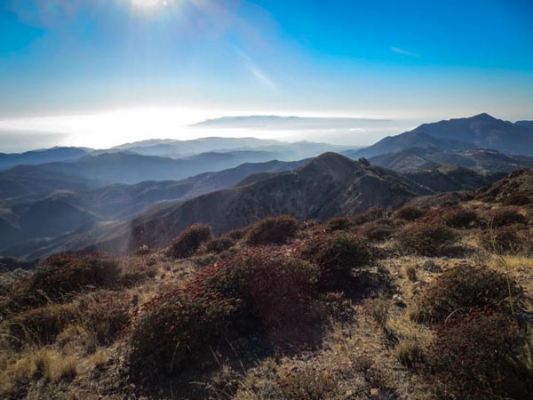 SANTA CRUZ ISLAND OVERNIGHT, FALL 2013
We enjoyed perfect weather both days and smooth seas coming and going. Participants came from a broad diversity of professional backgrounds and I think everyone really enjoyed geeking out on the incredible natural beauty and human history of the island. Special thanks to John Knapp and the rest of The Nature Conservancy staff for making the trip possible and for contributing so much expertise about the history and future of conservation and restoration on the island. These pictures, contributed by tour attendees, show some of the fascinating plants and animals we saw as well as the incredible vistas we enjoyed during our October 26-27 weekend visit. — Matt James, SERCAL 2012-2013 President.